During the time of film, I used slides and one of my favourite things to do was to make a slide sandwich. This was a technique discovered by Michael Orton. I would take two or more slides out of their case and mount them in one slide case. Now with digital photography, I do the same thing but I have many more options.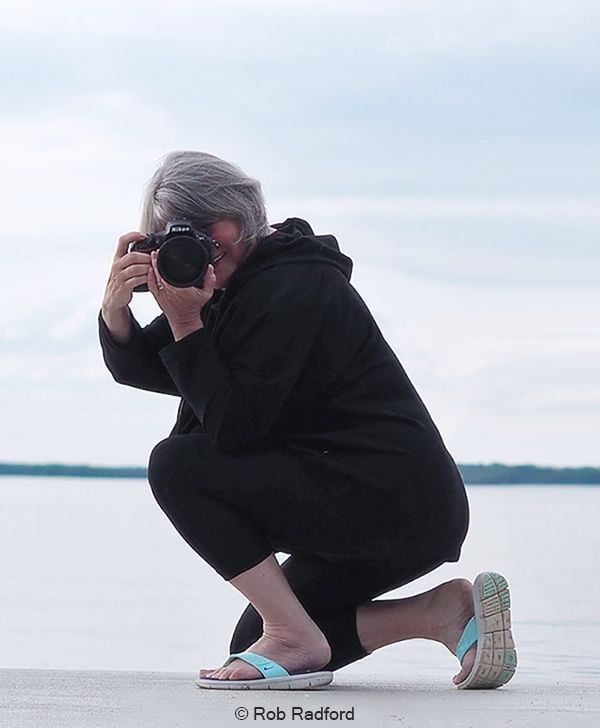 I photograph many backgrounds to use as layers to give my photographs a painterly look. Textures and patterns are everywhere, in the house or in the woods. If you start looking, you will be amazed that they are all around you in your everyday world.
Once I choose my main photograph, I can add layers in Photoshop, sometimes only using one but most often I use several. Many people think that my photographs are paintings due to this effect.
Travel has given me many opportunities to take interesting photographs such as a Lipizzaner Stallion in Vienna, lovely mountains in Switzerland or roosters running free in Florida but my true passion is taking photographs in my own backyard. Freeman Patterson, an award winning Canadian photographer writes that "a photographer who wants to make fine images, must recognize the value of the familiar. If you do not see what is around you everyday, what will you see when you go to Tangiers?" My approach to photography is much like Emily Carr's approach to art. "Do not try to do extraordinary things but do ordinary things with intensity."
"Love life, love animals, love trees and flowers! Love, Love! That's the key to the mystery of life!" -Carl Larsson
Like Carl Larsson who lived in a small town in Sweden and painted his family and home, I live in a small town in Eastern Ontario, Canada. A river runs past my home and every Season, I am offered up many photographic opportunities. I am happy and grateful that my photographs please people and that they wish to showcase them in their homes.
My photographs are printed onto metal..Watch a video to see how photographs are printed onto metal.
Due to Covid 19, all shows are cancelled and galleries are not open at this time.
If you are interested in purchasing a photograph, please contact me under the contact section of this website.